TFAS WASHINGTON FELLOWSHIP
A comprehensive leadership development initiative that immerses participants in the core concepts of free enterprise, personal liberty and the principles on which America was founded.

Program Dates: January 20 – April 26, 2024
Your semester in Washington, D.C. begins here.
The fellowship consists of a curated curriculum centered around freedom-based principles, delivered in collaboration with George Mason University. Additionally, it provides valuable internship placements with organizations devoted to advancing liberty. Participants are also offered comfortable, fully-furnished housing situated in the dynamic heart of Washington, D.C. and a $1,000 living stipend.
A selective group of fellows will partake in a range of exclusive guest lectures, site briefings, and engaging professional development and networking events to further enrich their experience. This intensive program aims to equip future leaders with a deep understanding of the values that underpin American society and empower them to make a positive impact on their communities.
Guaranteed
Internship Placement
Boost your resume with real-world experience.
An internship is one of the most important investments you can make in your future. In today's competitive workforce you need to graduate with experience, and we can help. Our fellowship program guarantees an internship placement. Dedicated staff works to match you with an internship that fits your interests, skills and career goals.
We have strong relationships with hundreds of DC organizations. In the last 50 years, we've placed more than 9,000 interns with thousands of organizations in the Washington Metropolitan area. Our vast network of connections ensure your resume ends up on the top of the hiring manager's pile.
From the time you enroll in our program, dedicated staff will guide you through the internship placement process. You'll be assigned your own internship coordinator that will ensure you are placed at an organization that matches your interests.
We guarantee an internship placement. Internship competition is stiff in Washington. D.C. is home to thousands of organizations in a variety of fields including, Congress, federal agencies, think tanks, Fortune 500 Companies, government affairs firms, embassies, nonprofits and international non-governmental organizations.
Internship Placement Process
Internship positions exist within various fields and institutions, including think tanks, policy groups, non-governmental organizations, and media outlets. Here is a sample of our past internship placements:
American Enterprise Institute
American Legislative Exchange Council
Americans for Tax Reform
Americans United for Life
Center for a Free Cuba
Center for a Secure Free Society
Citizens Against Government Waste
Competitive Enterprise Institute
Free Russia Foundation
FreedomWorks
Hudson Institute
Institute for Free Speech
McCain Institute for International Leadership
Mercatus Center at George Mason University
National Federation of Independent Business
Religious Freedom Institute
Republican Governors Association
The Daily Caller
The Federalist Society
The Washington Examiner
U.S. Congressional and Senate Offices
U.S. Department of Agriculture, Education, Health and Human Services, Justice and Transportation
Washington Council of Lawyers
Tell us about yourself. Once you enroll in our program, you'll complete the Internship Questionnaire. This is the first step in getting to know you, it outlines your skills and experience, the issue areas of interest to you and your preferred organization types.
Develop a game plan. Next we chat with you over the phone to get a clearer understanding of what you are looking to gain out of your internship experience. During the call we will discuss specific sites and outline a strategy for securing the best options for you.
Tailored internship resources. Our team will review your resume and a provide personalized feedback to ensure you are a competitive candidate in the Washington market. Additionally, we will make sure you are ready to ace the interview. We will provide you with practice questions, interview tips and resources on researching organizations.
By your side the whole way. Once the program starts we will prepare you for your first day and be there for you throughout the summer to ensure you have the best experience possible.
Communication is key. Our placement team will stay in contact with you providing updates and guidance until you are placed. If you are not selected for a position after an interview or if you truly feel the internship would not be a strong fit, the process will continue until a placement is confirmed.
Timelines. Applying for the program early always ensures that more opportunities are available, but does not necessarily guarantee an early placement as the process can last up to three months. Good things take time!
Internship sites are all accessible by public transportation making your commute to your internship and class a breeze.
Academic Courses
+ Guest Lectures
Critically examine America's founding and free enterprise system.
Students earn 12 credits from George Mason University. The courses are designed to complement your D.C. internship experience by offering a thorough examination of our free enterprise system and the economic way of thinking.
In-person class meetings are held in George Mason University's state-of-the-art facilities, conveniently accessible via Metro train in nearby Arlington, Virginia. GMU has been named one of the top 100 research universities in the U.S. by the Carnegie Classification of Institutions of Higher Education and was recently ranked Number 1 Young University by Times Higher Ed.
A GMU transcript with a grade may be requested from the registrar's office upon completion of the program.
Course Description
This course introduces students to the role of economics in the context of policy-making. Students will learn how to apply economic thinking and analysis to a variety of public policy issues. Examples will be drawn from current Administration policy initiatives, government economic policy, and ongoing legislative battles in Congress. Students will examine basic economic concepts and the market economy. They will be introduced to public choice theory and analyze various policy issues through the lens of economics. A sample syllabus may be found by clicking here.
Credits: 3
Faculty Biography
Anne Bradley
Professor, Economic Problems and Public Policies
Dr. Anne Rathbone Bradley is the George and Sally Mayer Fellow for Economic Education and the academic director at The Fund for American Studies. Through this position, Dr. Bradley works to enhance the impact and reach of TFAS economic education programs through courses, seminars, videos and social media. She also delivers lectures around the country and oversees curriculum development and evaluation for economics courses.
Previously, Dr. Bradley served as the vice president of economic initiatives at the Institute for Faith, Work & Economics, where she continues research toward a systematic biblical theology of economic freedom. In addition to her work with TFAS, she is a professor of economics at The Institute for World Politics and Grove City College. She is a visiting professor at George Mason University and has previously taught at Georgetown University and Charles University in Prague. She is currently an Acton Affiliate scholar and a visiting scholar at the Bernard Center for Women, Politics & Public Policy. She is a lecturer for the Institute for Humane Studies and the Foundation for Economic Education.
Course Description
This course is the perfect complement to any internship in the nation's capital – where politics and the federal government are front-page news every day. This interactive course will explore the development of the American political tradition from the New England Puritan settlement to the Founding Era and the conclusion of the Civil War. The class will also examine how the role of government has changed, how people's relationship to the government has evolved, and what this means for the future. Students will discuss the many ways in which Enlightenment liberalism developed alongside alternatives such as classical republicanism and Christianity. Students will explore these contradictory impulses in American political culture and discuss ways that they can be reconciled. View a sample syllabus.
Credits: 3
Faculty Biography
Samuel Goldman
Professor, American Political Thought
Samuel Goldman is executive director of the John L. Loeb, Jr. Institute for Religious Freedom and director of the Politics & Values Program at George Washington University. His first book God's Country: Christian Zionism in America was published by the University of Pennsylvania Press in 2018. His second book, After Nationalism, was published by the University of Pennsylvania Press in early 2021. In addition to his academic research, Goldman's writing has appeared in The New York Times, The Wall Street Journal, and many other publications.
Course Description
The internship seminar offers a structured environment in which to reflect on internship experiences and to explore "How Washington Works" from an insider's perspective. Observing Washington in action makes clear that politics in real life often differs from how it is portrayed in textbooks. Students will explore both the public and private sectors roles in advancing public policy through group projects and site visits to organizations around the city. This seminar is taught by a former Congressional Chief of Staff and senior advisor at the Department of Labor. High-level guest speakers will cover pressing issues such as national security, cases before the Supreme Court, political campaigns, pending federal legislation and the media's coverage of Washington.
Credits: 6
Faculty Biography
Karen Czarnecki
Professor, Inside Washington Internship Seminar
Karen M. Czarnecki most recently served as the Vice President of Outreach at the Mercatus Center. Previously she served as the Chief of Staff to Rep. Mike Kelly and as a senior advisor to U.S. Secretary of Labor Elaine L. Chao. She joined the Labor Department in June of 2001, and in June 2003 she was appointed Director of the Office of the 21st Century Workforce. In addition, she served as Deputy Assistant Secretary of Labor for Intergovernmental Affairs, giving her responsibility for outreach to state and locally-elected officials. Czarnecki received her BA and juris doctorate degrees from the Catholic University of America and is also an alumna of the Public Policy and Economics program.
Liberty Focused Lectures
Weekly guest lectures allow you to engage with some of the best public policy experts and political minds in D.C. Past speakers include:
Doug Bandow, Senior Fellow, The Cato Institute
Rachel Ferguson, Director of the Center for Free Enterprise, Concordia University Chicago
Steve Hanke, Professor of Economics, Johns Hopkins University
Lindsay Hayes, President, Free the Facts
Greg Lukianoff, President of the Foundation for Individual Rights and Expression
Judge Andrew Napolitano, Senior Judicial Analyst, Fox News
U.S. Senator Rand Paul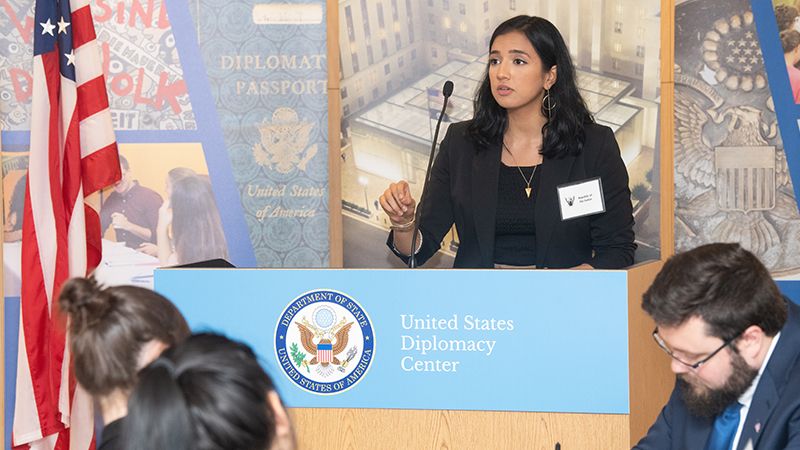 Exclusive Briefings + Connection Building
Expand your network exponentially.
We'll bring the policy briefings and networking opportunities to you this spring. Learn from experts, build your professional network and gain insider job-seeking tips through small group discussions.
TFAS will bring you inside the walls of the city's most influential institutions and organizations through exclusive tours and briefings with officials at:
American Enterprise Institute
Cato Institute
CIA + FBI
Embassies
Federal Reserve
Heritage Foundation
National Press Club
U.S. Congress
U.S. Department of State
U.S. Securities + Exchange Commission
World Bank
Practice your networking skills and explore a variety of career paths through organized events with TFAS alumni and other D.C. professionals.
You will have a backstage pass to Washington institutions that most students are only able to read about.
Gain invaluable insights from top lobbyists, nonprofit executives, journalists, Capitol Hill staffers, Foreign Service officers and policymakers to leverage your D.C. experience into a promising future internship or full-time job after graduation.
In D.C. it's often not "what you know," but "who you know." Establishing a professional network is critical for success in job searching after graduation. Our Professional Mentor Program gives students a personal connection to a professional in Washington, D.C.
Students have weekly virtual meetings with mentors on topics such as getting a job in D.C., resume help, advice on graduate school and much more.
Washington, DC-area professionals volunteer to be matched as mentors with TFAS program participants. We do our best to match students with a mentor based on your field of study, career goals, college or university, hometown, and other factors whenever possible.
Student Life
Become a D.C. insider and build a community of peers.
Outside of your classroom and internship, there will be many opportunities to grow personally and create your own D.C. Experience.
Enjoy an engaging community of peers in furnished housing in the heart of Washington, D.C.
Participate in social activities planned to help you make life-long friends
Explore the historical and cultural elements of the Nation's Capital
Fellowship participants are housed together in a residential building in the Capitol Hill neighborhood of Washington, DC that has been converted into apartments.
Roommate matches are handmade by TFAS staff using compatibility criteria you provide during the enrollment process.
Amenities
The apartments are fully furnished, including a complete kitchen. They are internet-ready and air-conditioned, and have easily accessible laundry facilities. Each apartment has a fully furnished kitchen with plates, silverware, and glassware.
Also included are twin-sized beds, a table and chairs, couch, a full bathroom and closets. The living/dining area is equipped with a TV with basic cable. While each apartment layout is different, the amenities included are the same.
Neighborhood + Transportation
The building is located on the House of Representatives side of Capitol Hill and is part of the largest residential neighborhood in Washington. It is one of the oldest residential communities in DC with numerous shops, restaurants, Congressional buildings and many of the city's most significant cultural attractions close by, including the Supreme Court and Library of Congress.
The building is located just a short walk from the Capitol South and Eastern Market Metro Stations (Orange/Blue/Silver lines), providing easy access to internship sites and other locations across the city.
Admissions +
Enrollment
Take the next step in your leadership journey.
We hope you'll apply to be a part of the Spring 2024 TFAS Washington Fellowship!
Applications are reviewed on a rolling basis. Students will be notified of their selection decision via email within 3 weeks of completing an application. Students accepted to the fellowship are given between 2-3 weeks to accept or decline the fellowship offer.
Selection Criteria
When selecting undergraduate students to participate in the Fellowship, TFAS is looking for applicants with a demonstrated interest in the principles of limited government and free enterprise, as well as a commitment to leadership with a desire to make a difference in the world.
The admissions committee looks at the whole individual. We are seeking well-rounded students who demonstrate ambition, strong academic performance, leadership ability, maturity, time management skills as well as campus and community involvement. Applicants with a GPA of 3.0 or higher, relevant professional and volunteer experience, and well-written essays are given the highest scores.
Eligibility
Applicants must be 18 years old, have graduated high school and have completed at least one semester of undergraduate study at an accredited college or university before applying to attend the semester fellowship.
Fellowship Financials
Selected Fellows will receive a full scholarship covering tuition at George Mason University, housing in furnished Capitol Hill apartments and program fees. In addition, Fellows will receive a stipend of $1,000 toward living expenses.
Applications are reviewed and accepted on a rolling basis, so we encourage you to apply as early as possible.
Spring 2024 TFAS Washington Fellowship
Priority Deadline: October 20, 2023
Final Deadline: November 15, 2023
All applicants are required to complete the online application. Supplemental materials must be sent in via email or mail using the contact information below. Please keep in mind that your application will not be sent to the admissions committee for review until all required materials are received.
Online Application:
One-page Resume
Writing Sample (Assignment or article submitted for a college-level course or for publication)
Short Answer Prompts
Personal Statement
Supplemental Materials
Official Transcript(s): Transcripts from any university attended must be mailed in a sealed envelope or send through electronic delivery from the home university's registrar using the contact information below. This includes community colleges or study abroad experiences. The only exception is if past grades are listed on the current transcript.
The Fund for American Studies
D.C. Academic Internship Programs
1706 New Hampshire Ave., NW
Washington, DC 200009
Tel: 202.986.0384
Email: admissions@TFAS.org
QUESTIONS?
We are happy to answer any questions that you may have!
Please contact Abby McGovern via email at amcgovern@TFAS.org.