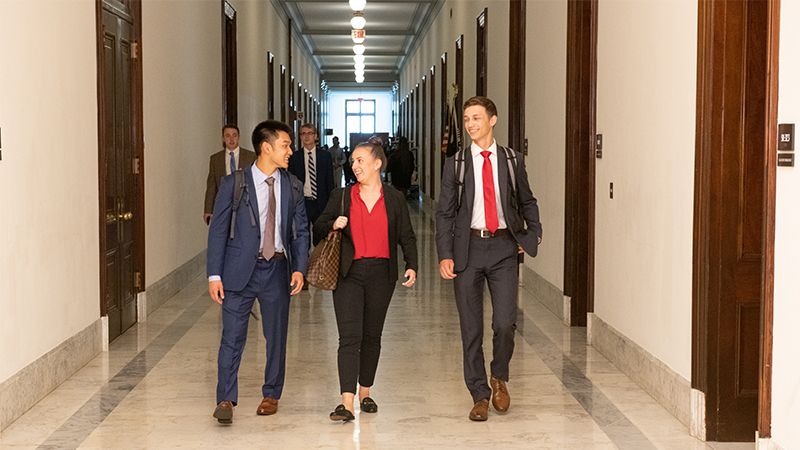 Business + Government Relations
Academic Internship Program Sponsored by The Fund for American Studies
Summer 2022: June 4 – July 29
Why Business + Government Relations?
Whether you are looking for a career in business, law, government or public policy, Washington, DC is the place for you.
This TFAS program track is ideal for students who are interested in learning about the legislative process and how it affects industries around the country and world. Students will gain the professional experience needed to succeed in a variety of fields including business, law and government.
Students will see government relations from the inside where they will learn about representing the interests of a company or industry to the government and media. Professionals in this field work to educate government officials on legislative and policy issues.
All businesses and industries need representation in Washington. This summer, you can grab a front row seat at a major corporation like eBay and AT&T, or with an industry group like Healthcare Leadership Council and American Financial Services Association.
What Makes this Program Track Unique?
An internship placement in a government relations office (major corporation, trade association or private public affairs firm)
Coursework in economics of regulation and ethical leadership designed to complement your real-word experience
Guest lectures featuring prominent policy, business and economics experts
Networking through career-focused panels and small group discussions led by professionals working at top companies such as Amazon, Uber, Ford Motor Company, Technology Leadership Council and in Congressional offices.
It's much more than just coursework and an internship placement. The contacts you'll make throughout the summer will be invaluable in finding that first job out of college.
---
The Comprehensive Package Includes
Roommate matching with other program students based upon compatibility criteria.
Easy access to the safe and affordable Metro train and bus system.
Full access to campus resources, including libraries, computer labs and much more.
Comprehensive orientation to the program, campus and the city upon your arrival.
Dedicated program staff members who are available to communicate with you about your internship placement, financial aid and general questions in the months leading up to the program.
Continued staff support while you are in Washington to ensure that you have an amazing experience. In addition to the full time, year-round program staff who will get to know you and help you throughout the summer, there will be alumni living in housing and serving as Program Advisors.
Site briefings at institutions such as the Department of State, Capitol Hill, Ronald Reagan International Trade Center, and the White House.
Professional development seminars on topics including job searching, public speaking and networking.
A mentor program where you are matched with a DC professional working in business, government relations and public policy.
Planned social events where you can connect with almost 350 other student leaders participating in TFAS programs. These events may include: a trip to a Nationals baseball game, a student BBQ, volunteer projects, canoeing on the Potomac and a trip to Mt. Vernon.
An active network of more than 18,000 alumni worldwide to join upon the completion of the program.
"Whether it was experiencing an internship built exactly for what I am studying, attending amazing guest lectures from incredibly important people, or just getting to see all of the monuments and Smithsonian museums, this summer was one of the best experiences I have ever had."

Justin Teague, College of Charleston
Intern, World Shipping Council
Sample Schedule
Students should plan to arrive on Saturday, June 4 and will be allowed to check into their on-campus apartments at between 10:00am – 2:00pm. Orientation activities will be planned for that evening and during the next few days. Students will be required to move out of the apartments on Friday, July 29 by 11:00am. Further details on arrival logistics, registration and orientation will be provided as the summer approaches.
This schedule is only meant to give an idea of the summer's general structure. It is subject to change according to events and briefings. You will receive updated weekly calendars in class and by e-mail throughout the summer.
Mon

| | |
| --- | --- |
| 9:00AM – 5:00PM | Internships |
| 6:00PM – 7:30PM | Elective Courses (optional) |
Tues

| | |
| --- | --- |
| 9:00AM – 4:00PM | Internships |
| 5:00PM – 6:30PM | Economics Courses |
| 7:00PM – 8:00PM | Guest Lectures |
Wed

| | |
| --- | --- |
| 9:00AM – 5:00PM | Internships |
| | Self-paced Content – All Courses |
Thurs

| | |
| --- | --- |
| 9:00AM – 5:00PM | Internships |
| 12:00PM – 1:00PM | Professional Development Seminars (optional) |
| 6:00PM – 8:30PM | Elective Courses (optional) |
Fri

| | |
| --- | --- |
| 9:00AM – 10:30AM | Economics Courses |
| 12:00PM – 5:00PM | Networking Events + Site Briefings |