What Types of Students Are We Looking for?
TFAS is looking for undergraduate students who want to make a difference in the world and are excited to spend a summer studying and interning in the Nation's Capital. We welcome students from all majors and backgrounds. Most students attend a TFAS program after their sophomore or junior year, but first-years and graduating seniors are welcome to apply.
When making admissions and scholarship decisions, the admissions committee looks at the whole individual. We are seeking well-rounded students who demonstrate ambition, strong academic performance, leadership ability, maturity, time management skills as well as campus and community involvement. Applicants with a GPA of 3.0 or higher, relevant professional and volunteer experience, and well-written essays are given the highest scores.
Applicants must be 18 years old, have graduated high school and have completed at least one semester of undergraduate study at an accredited college or university before applying to attend one of the summer or semester programs.
Admission Timeline
Applications are reviewed on a rolling basis. Students will be notified of their admissions decision via email within 3 weeks of completing an application. Scholarship awards are given at the time of admission. The status of submitted application materials and admissions decisions are accessible within the online application system.
Students accepted to the program are given between 2-3 weeks to accept or decline the offer of admission. At the time of enrollment, a $750 deposit must be paid to confirm participation.
Virtual Office Hours
Have questions about the program or admissions process?
Schedule a time to speak one-on-one with an admissions representative during our virtual office hours. We look forward to hearing from you!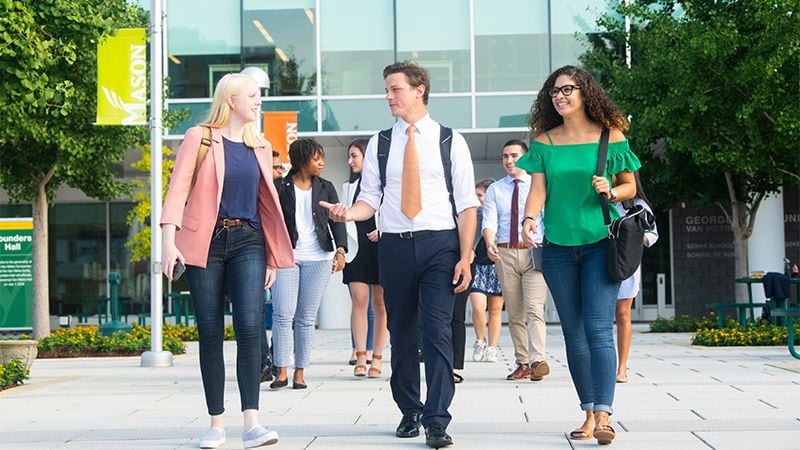 Applications are reviewed and accepted on a rolling basis, so we encourage you to apply as early as possible. Early applicants will receive first consideration for admission and scholarship decisions as well as internship placement. Many internship placements are very competitive, so the earlier you are admitted, the greater your chance of receiving a top internship placement.
To qualify for a deadline, you must submit the online application form by 11:59 PM eastern time on the deadline. All supporting materials must also be received by the deadline.
Summer 2024: June 1 – July 26
Early Admissions Deadline: Tuesday, December 5
International Student Deadline: Tuesday, December 5
Priority Admissions Deadline: Thursday, February 8
Final Admissions Deadline: Tuesday, March 12
All applicants are required to complete the online application. Supplemental materials must be sent in via mail, email or fax using the contact information below. Please keep in mind that your application will not be sent to the admissions committee for review until all required materials are received.
Online Application:
One-page Resume
Two Short Answer Prompts (5 sentences each)

"Please describe the type of internship that is a good fit for your skills, interests and experiences. How will this professional experience help you achieve your career goals?"
"Why are you applying to participate in a comprehensive D.C. program that includes academic coursework, an internship placement, as well as career-building and networking events rather than seeking an internship on your own?"

Writing Sample

Public Policy + Economics and Business + Government Relations: Upload a writing sample (1-5 pages in length). This should be an assignment, excerpt from paper or article submitted for a college-level course or for publication.
International Affairs (Summer): Upload a writing sample (1-5 pages in length) that addresses an area of foreign policy/international affairs of greatest interest to you and/or of greatest relevance to the type of internship you wish to pursue. Examples include a regional focus such as U.S.-Iranian relations, the geopolitics of Venezuela, or a topical area of focus such as international aid & development, human rights, humanitarian relief, diplomacy or national security, etc. This may be a copy of or an excerpt from a collegiate term paper, journal article or essay submission.
Journalism + Communications: Submit 2-4 writing samples. Published news articles are strongly preferred, but assignments from a journalism or communications class will be accepted.
Supplemental Materials
Official Transcript(s): Transcripts from any university attended must be mailed in a sealed envelope or faxed/emailed directly from the home university's registrar using the contact information below. This includes community colleges or study abroad experiences. The only exception is if past grades are listed on the current transcript.
$25 Application Fee: Must be paid via credit card at the time of submission of the online application or via check mailed to the address listed below.
Scholarship Application
Students wishing to apply for a scholarship MUST do so when submitting their application for admission.
Scholarship Statement (200 words): "Write a brief statement describing your need for a scholarship." Must be uploaded into the online application system.
Personal Financial Materials: Must be uploaded into the online application.

Student Aid Report (SAR): Required if a FAFSA was completed. This document is accessible at www.fafsa.ed.gov with PIN and password.
Federal Tax Return (1040 only): Required if a FAFSA was NOT completed. Most recent tax return claiming applicant as a dependent. The applicant may send their own tax return if they are an independent.
Financial Aid Award Summary + Grant/Scholarship Letters: Documentation of all need-based, merit-based or athletic scholarships, grants, or loans received for the current school year. Printouts from university online systems are accepted.
The Fund for American Studies
D.C. Academic Internship Programs
1706 New Hampshire Ave., NW
Washington, DC 200009
Tel: 202.986.0384
Email: admissions@TFAS.org
All participants must view and sign The Fund for American Studies program policies upon enrollment. Please click on the link below to view the policies for the summer and semester programs, including terms of final payment, refunds, withdrawals, student participation and code of conduct.
International students may apply for any of the undergraduate programs. Those already studying on an F-1 visa at another U.S. institution may apply at any time throughout the admissions cycle and will be reviewed for admission and scholarship awards as part of the general application cycle.
Applicants coming from outside of the U.S. without a current student visa must complete the program as a J-1 intern visa holder sponsored by the Council on International Educational Exchange (CIEE). Any student needing a J-1 visa must apply by the appropriate international student deadline.
Summer 2024
Due to continuing visa restrictions, TFAS is limiting the number of international student participants in the Summer 2024 programs.
International students already studying in the U.S. may complete the application process and will be reviewed for admission with other U.S.-based applicants.
We have several special scholarships/partnerships available for students from specific countries. Admission of international students studying outside of the U.S. will be limited to applications from the following:
Estonia
Hungary
Latvia
The Netherlands + Dutch Caribbean Countries
Poland
Application Instructions
International students should complete the standard application procedure outlined above. The only additional requirement is proof of English proficiency. It is preferred that students submit scores from one of the following tests. A phone interview may be conducted for applicants who have not taken one.
Test of English as a Foreign Language (TOEFL): A score of 88 or higher on the internet-based exam, 230 or higher on the computer-based exam, and 570 or higher on the paper-based exam. (Please note that the TOEFL ITP is not a valid form of the test)
International English Language Testing System (IELTS): A score of 6.5 on the academic exam.
Completion of the Cambridge English Proficiency (CPE) Exam.
Pearson Academic Test of English: A minimum score of 59.
SAT I Critical Reading/ACT-English: A score of 450 or higher on the SAT I critical reading section or an ACT-English score of 20 or higher.
International applicants who have completed a year of study at a regionally accredited university in the U.S., Canada (excluding the province of Quebec), United Kingdom, Ireland, Australia, and New Zealand or another university where classes are conducted in English are considered to have met the level of English proficiency and do not need to submit additional documentation.