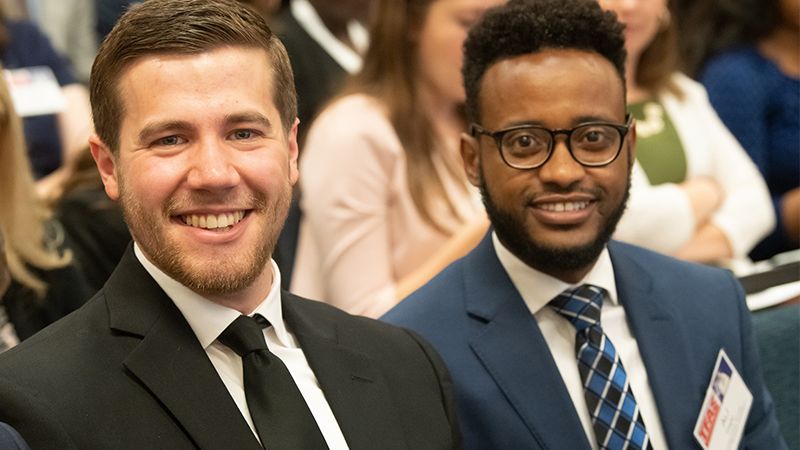 The costs associated with our program cover tuition at George Mason University and furnished housing in downtown Washington, D.C.
The additional benefits of our comprehensive program, including an internship placement, guest lectures, networking events, professional seminars and site briefings add value beyond just the classes and housing. The experience, knowledge and contacts you will gain by participating in a TFAS program will be valuable assets and can increase your earning potential in the job market.
As an educational nonprofit organization, we strive to provide as much scholarship funding to as many qualified and deserving students as possible. 85% of students attending TFAS programs are on full or partial awards based on merit and/or need. You'll see the full costs listed below, but keep in mind that the majority of students receive scholarship funding to help cover a portion of the costs.
Scholarship Funding Overview
Awards for the summer tend to range from $1,000 -$5,000 and $2,000 –$7,000 in the semester, with the highest awards going to students with the highest degree of need and merit. Please see the Admissions page for details on how to apply for a scholarship with your application.
In addition to the partial scholarships available through our general scholarship fund, we have a number of special full scholarship opportunities open to students meeting certain criteria or focuses of study.
"Before coming to Washington, D.C, I was struggling to choose whether to accept this opportunity due to financial reasons. Thanks to my scholarship, I have gained an unforgettable experience, and I have TFAS to thank for helping me take full advantage of this opportunity!"

Anthony Bonini, University of Redlands
Intern, Aspira Association Inc.
Program Costs + Full Scholarships
Details on the summer and semester program costs as well as full scholarship opportunities are found below. Please click through all tabs to learn more about each category of full scholarship after reading the overview.
---
Other Sources of Funding
While 85% of students receive scholarship support from TFAS, including some full awards, most students will have a remaining balance due. It is important to think about how you will fund your Washington experience early in the application process.
We encourage you to take the following steps:
Talk with your parents, guardians and other family members about their ability to contribute to your participation in the program.
Research scholarship opportunities on your campus and in your community, including the honors college, academic departments or other offices that offer scholarships for enrichment programs. Community organizations such as the Rotary Club and churches often assist students in financing their DC experience.
Meet with the financial aid office at your home university to discuss the possibility of transferring any federal aid to a summer or semester of study. Aid may be transferred through a consortium agreement. A consortium agreement is a form that allows one academic institution to verify the credit hours and costs of another academic program before a transfer of funds can occur.
Your TFAS admissions counselor will also serve as your tuition payment counselor as you research additional funding opportunities. Questions regarding consortium agreements, transferring aid and applying for educational loans may be directed to these staff members and admissions@tfas.org.
---