Program Dates: June 8 – July 31, 2020
Due to the COVID-19 outbreak and the decisions made by our university partners, The Fund for American Studies is not able to offer in-person academic internship programs this summer.
While we cannot welcome students to Washington, DC in person, we are excited to offer our excellent academic and professional development programming online. We'll bring the connections, lessons and college credit to you so that you waste no time in gaining the marketable skills that will put you on the path for success. We'll bring the excitement of a Washington, DC summer to you!
TFAS is uniquely qualified to bring you the ultimate DC experience online! For 50 years, we have cultivated relationships with DC-based institutions and professionals and are working with these partners to bring their expertise to your home this summer.
Through the TFAS Virtual Summer Program our goal is to bring the best of the programming we typically offer in Washington, DC to students around the country through:
Academic courses for credit in economics + government
Guest lectures by top policy experts
Professional Development Seminars
Virtual one-on-one Mentor Program
Career exploration panels and small group discussions
Site briefings with key government leaders
Networking and special events
Internships
Because of the move to virtual programming, the format of internships will change. We are working to secure remote internships and they will be reviewed on a case-by-case basis with students.
---
Academic Courses + Guest Lectures with Policy Leaders, Economics Experts, Journalism and PR Professionals
TFAS is offering a selection of virtual courses for academic credit from George Mason University (GMU) this summer. These classes are specially designed with a focus on active learning, including two live meetings of 1.5 hours a week and an additional recorded lecture. Professors will also hold weekly virtual office hours.
A GMU transcript with grades may be requested from the registrar's office upon completion of the program.
Select one Economics Course:
Course Description
In this international economics course, students will examines problems and achievements of current and formerly communist and socialist countries including China, Eastern European countries, Russia and other countries of the former Soviet Union as they transition to more market-oriented economies. Includes market economics and central planning. Please click here for Section A with Anne Bradley's syllabus. Click here for Section B with Rosolino Candela's syllabus.
Faculty
Anne Bradley
Professor, Economies in Transition
Dr. Anne Rathbone Bradley is the George and Sally Mayer Fellow for Economic Education and the academic director at The Fund for American Studies. Through this position, Dr. Bradley works to enhance the impact and reach of TFAS economic education programs through courses, seminars, videos and social media. She also delivers lectures around the country and oversees curriculum development and evaluation for economics courses.
Previously, Dr. Bradley served as the vice president of economic initiatives at the Institute for Faith, Work & Economics, where she continues research toward a systematic biblical theology of economic freedom. In addition to her work with TFAS, she is a professor of economics at The Institute for World Politics and Grove City College. She is a visiting professor at George Mason University and has previously taught at Georgetown University and Charles University in Prague. She is currently an Acton Affiliate scholar and a visiting scholar at the Bernard Center for Women, Politics & Public Policy. She is a lecturer for the Institute for Humane Studies and the Foundation for Economic Education.
Rosolino Candela, George Mason University
PROFESSOR, ECONOMIES IN TRANSITION
Rosolino Candela is a Senior Research Fellow and Associate Director of Academic and Student Programs, as well as a Senior Fellow of the F.A. Hayek Program for Advanced Study in Philosophy, Politics and Economics at the Mercatus Center.
Prior to George Mason University, Candela taught in the Department of Economics at Brown University, where he was also a Postdoctoral Research Associate in the Political Theory Project. He was also a Visiting Professor of Economics at Universidad Francisco Marroquin, and a Visiting Fellow in the Department of Political and Social Sciences at the European University Institute.
In 2016 and 2019, Candela was nominated for the George Mason University Career Connection Faculty Award.
Course Description
This course introduces students to the role of economics in the context of policy-making. Students will learn how to apply economic thinking and analysis to a variety of public policy issues. Examples will be drawn from current Administration policy initiatives, government economic policy, and ongoing legislative battles in Congress. Students will examine basic economic concepts and the market economy. They will be introduced to public choice theory and analyze various policy issues through the lens of economics. This summer's syllabus may be found by clicking here.
Faculty
Chris Coyne, George Mason University
Professor, Economic Problems and Public Policies
Christopher Coyne is a Professor of Economics at George Mason University and the Associate Director of the F. A. Hayek Program for Advanced Study in Philosophy, Politics, and Economics at the Mercatus Center. He is the Co-Editor of The Review of Austrian Economics and The Independent Review. He also serves as the Book Review Editor for Public Choice.
Coyne is the author or co-author of Tyranny Comes Home: The Domestic Fate of U.S. Militarism (2018, Stanford University Press), Doing Bad by Doing Good: Why Humanitarian Action Fails (2013, Stanford University Press), Media, Development and Institutional Change (2009, Edward Elgar Publishing), and After War: The Political Economy of Exporting Democracy (2007, Stanford University Press).
He is also the co-editor of In All Fairness Liberty, Equality, and the Quest for Human Dignity (2019, Independent Institute), Exploring the Political Economy and Social Philosophy of James M. Buchanan (2018, Rowman & Littlefield International), Interdisciplinary Studies of the Market Order: New Applications of Market Process Theory (2017, Rowman & Littlefield International), Future: Economic Peril or Prosperity? (2016, Independent Institute), The Oxford Handbook of Austrian Economics (2015, Oxford University Press) and The Handbook on the Political Economy of War (2011, Edward Elgar Publishing).
In addition, Coyne has authored numerous academic articles, book chapters, and policy studies.
In 2016 he was selected as a recipient of George Mason's University Teaching Excellence Award.
Course Description
This course presents lectures and case studies to give aspiring journalists a clear understanding of free-market economic principles necessary to report news stories. The course will examine economic policy and how it relates to reporting accurate news stories. Students will learn about the inter-related nature of politics and economics and will learn to think critically about society, the market, and government. Please click here for this summer's syllabus.
Faculty
Donald Boudreaux, George Mason University
PROFESSOR, ECONOMICS FOR THE CITIZEN
Professor Donald J. Boudreaux was the Chairman of the Department of Economics at George Mason University in Fairfax, Virginia, from August 2001 to August 2009. Previously, he was president of the Foundation for Economic Education (1997-2001), Associate Professor of Legal Studies and Economics at Clemson University (1992-1997), and Assistant Professor of Economics at George Mason University (1985-1989).
During the Spring of 1996 semester he was an Olin Visiting Fellow in Law and Economics at the Cornell Law School. He earned his PhD in economics from Auburn University (1986) and his law degree from the University of Virginia (1992).
He has lectured, in the United States, Canada, Latin America, and Europe, on a wide variety of topics, including the nature of law, antitrust law and economics, and international trade. He is published in The Wall Street Journal, Investor's Business Daily, Regulation, Reason, Ideas on Liberty, The Washington Times, The Journal of Commerce, the Cato Journal, and several scholarly journals such as the Supreme Court Economic Review, Southern Economic Journal, Antitrust Bulletin, and Journal of Money, Credit, and Banking.
Optional Economics Boot Camp
TFAS will offer an optional virtual Economics Boot Camp seminar before the start of the program. This is an ideal way for students who have never taken an economics class to get up to speed with economic principles and the economic way of thinking.
The Boot Camp will consist of two short virtual seminars with professor instruction and self-paced online modules. Upon completion of the Economics Boot Camp, students will be prepared to dive into upper level Economics courses.
Dr. Anne Bradley, who holds a PhD in Economics and serves as the TFAS Academic Director, will lead the seminar. Students may indicate their interest in participating in the Economics Boot Camp at the time of enrollment.
---
Elective Course
Students seeking to take a total of 6 credit hours, may enroll in one of the following elective courses:
Course Description
The discussion-based class provides historical and present-day perspectives on American foreign policy. It will examine how these views will influence the future of American diplomacy and global perception of the United States. During the course, students will be engaged in a series of "great episodes" in American foreign policy, aiming at relating them to current problems. The course will also examine national security policy since 9/11. This course is open to all students with an interest in foreign policy or international affairs. Please click here for this summer's syllabus.
Faculty
Jonathan Askonas, Catholic University
PROFESSOR, U.S. FOREIGN POLICY
Jon Askonas works on the connections between the republican tradition, technology, and national security. He is currently working on a manuscript examining post-war organizational forgetting processes in militaries. The book will address the relationship between how the US Army organizes itself for war, how it adapts to new challenges (using case studies from Vietnam and Iraq), and why it forgets much of what it has learned after the war winds down. He is also working on essays on the deep political, moral, and practical implications of the volunteer military and on the connection between artificial intelligence research and authoritarian surveillance.
He has a BS in International Politics (summa cum laude) from Georgetown University and a DPhil from the University of Oxford. He has worked at the Council on Foreign Relations, US Embassy in Moscow, and the Clements Center for National Security at the University of Texas at Austin. His work has been supported by the Beinecke Scholarship, the Smith Richardson Foundation, the Charles Koch Foundation, and the Cyril Foster Fund. His writing has appeared in Russian Analytical Digest, Triple Helix, Fare Forward, War on the Rocks, and the Texas National Security Review.
Course Description
This seminar offers an insider's look at Washington, DC through discussions and assigned readings to explore "How Washington Works," as well as the role the media plays in covering public policy issues. Observing Washington in action makes clear that politics in real life often differs from how it is portrayed in textbooks. This seminar is team-taught by a former Congressional Chief of Staff and senior advisor at the Department of Labor as well as the founding editor and first White House correspondent for USA Today. High level guest speakers will cover pressing issues such as national security, cases before the Supreme Court, political campaigns and pending federal legislation. The syllabus is available here.
Faculty
Karen Czarnecki
Professor, Inside Washington, DC
Karen M. Czarnecki currently serves as the Vice President of Outreach at the Mercatus Center at George Mason University. Previously she served as the Chief of Staff to Rep. Mike Kelly and as a senior advisor to U.S. Secretary of Labor Elaine L. Chao. She joined the Labor Department in June of 2001, and in June 2003 she was appointed Director of the Office of the 21st Century Workforce. In addition, she served as Deputy Assistant Secretary of Labor for Intergovernmental Affairs, giving her responsibility for outreach to state and locally-elected officials. Czarnecki received her BA and Juris Doctorate degrees from Catholic University of America and is also an alumna of the TFAS Public Policy and Economics program.
Richard Benedetto
PROFESSOR, INSIDE WASHINGTON, DC
Richard Benedetto was the White House and national political correspondent for USA TODAY as well as a political columnist for Gannett News Service. He has reported on government and politics on the local, state and national levels for the past 34 years.
As a native of Utica, NY, Benedetto began his journalism career with the Buffalo, (N.Y.) Evening News, and held government reporting positions with the Utica Daily Press and Observer-Dispatch.
He also worked in the Albany bureau of Gannett News Service, covering state and government politics during the Governor Hugh Carey administration. He is a founding member of USA TODAY, joining the newspaper in Washington, D.C. in 1982, prior to its debut. He wrote the paper's first front-page cover story on its initial day of publication. USA TODAY is now the nation's largest newspaper. In addition to reporting on the White House and national politics, he writes a weekly political column for the Gannett News Service which serves the Gannett Company Inc.'s 102 daily newspapers. The column also appears on the USATODAY.com website.
He has covered the administrations of Ronald Reagan, George H. W. Bush, Bill Clinton and George W. Bush. He also has covered the presidential campaigns of 1984, 1988, 1992, 1996, 2000 and 2004.
Guest Lectures
Weekly guest lectures held virtually will give you a chance to hear from and ask questions of some of the best public policy experts, political minds, diplomats and journalists in D.C.
US-Russia Foreign Policy: David Satter, Senior Fellow, Hudson Institute + Thomas Wright, Director, Center on the U.S. and Europe, Brookings Institution
Syria in Review: Faysal Itani, Senior Fellow, Atlantic Council
2020 Polling + the Presidential Outlook: Chris Wilson, CEO of WPA Intelligence
Tariffs and American Jobs Debate: Alan Tonelson, Founder, RealityChek and Donald Boudreaux , GMU
Life of a Foreign Correspondent: Suzanne Kianpour, BBC News
The ABC's of Covering Capitol Hill: Matt Laslo Capitol Hill Reporter
Pathways to Public Relations in Washington, DC: Randy DeCleene, kglobal
---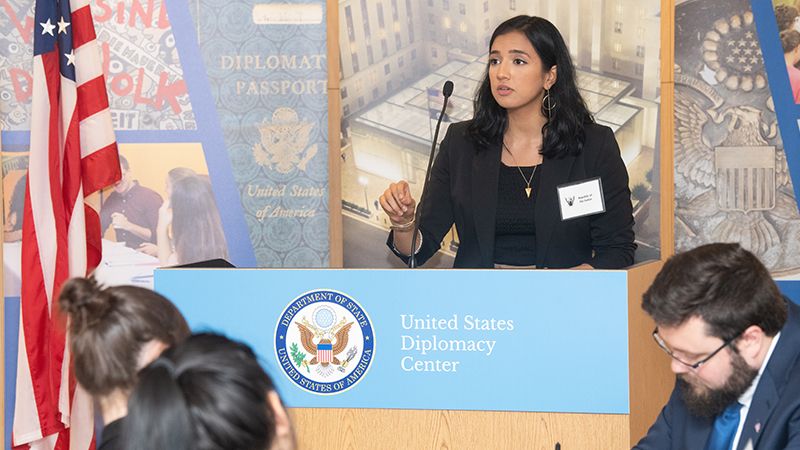 Site Briefings + Career Exploration
We'll bring the policy briefings and networking opportunities to you this summer.
Learn from experts, build your professional network and gain insider job-seeking tips through small group discussions.
TFAS will bring you inside of the walls of the city's most influential institutions and organizations through virtual briefings with officials at:
U.S. Department of State
United States Congress
World Bank
U.S. Institute of Peace
The Pentagon
Embassies (examples: Great Britain, Australia, Sweden, Japan, Mexico, Estonia, Greece)
TFAS will offer optional seminars each week that focus on different professional development themes. Students are encouraged to attend as many virtual panels as they'd like throughout the program.
The interactive sessions will be led by mainly D.C.-based professionals from a variety of career fields, and are designed to help prepare you to stand out in the competitive job market after graduation.
Topics for the summer will include:
Virtual Networking
Tips for Getting a Job
Graduate School Admissions
Working/Learning from Home
Fellowship Programs
Creating Your Online Profile
DC Careers 101
In D.C. it's often not "what you know," but "who you know." Establishing a professional network is critical for success in job searching after graduation. Our optional Professional Mentor Program will be held virtually this summer and will help give students a personal connection to a professional in Washington, DC.
Students will have weekly virtual meetings with mentors on topics such as getting a job in D.C., resume help, advice on graduate school and much more.
Over 200 Washington, DC-area professionals volunteer to be matched as mentors with TFAS program participants. We do our best to match students with a mentor based on your field of study, career goals, college or university, hometown, and other factors whenever possible.
Designed to help you explore a variety of career paths and to further build your network, TFAS is planning a series of virtual career-focused panels and small group discussions led by professionals working in a range of fields and industries.
From these insiders, you'll learn about important topics affecting job seekers in your field:
Day to date responsibilities of entry level and senior positions
Pressing policy issues
Current climate for finding a job in your field
Typical starting salaries
Advice on job searching and breaking into a particular field
Students will have the opportunity to participate in sessions associated with their program track. Past small group meetings and career panels have featured:
Amazon Government Affairs
Caterpillar, Inc. Government Affairs
CIA: Intelligence Careers
Clark Hill, PLC: Law Careers
CSPAN
Defense Consulting Careers
Economic Innovation Group: Public Policy Careers
Ford Motor Company Government Affairs
Humanitarian Aid + Relief Careers
National Geographic
National Public Radio
NBC News
POLITICO
Public Diplomacy Careers
Office of U.S. Congressman Mark Takano (D): Legislative Careers
Stateside Associates: State-based Government Affairs
Uber Government Affairs Careers
U.S. Chamber of Commerce Careers
U.S. Department of Housing and Urban Development
U.S. Department of State Careers
U.S. House Energy and Commerce Committee: Communications Careers
United Nations Careers
U.S. Trade + Development Agency Careers
---
Schedule
In order to receive a certificate of completion at the end of the summer, students will be required to fully participate in the classes, attend guest lectures, at least one site briefing and career exploration session. Attendance at additional professional development and special events is strongly encouraged.
The schedule below is based on the Eastern Time zone. Some programming components will be planned by time zone. All sessions will be recorded and shared with students to allow self-paced viewing when a scheduling conflict does not allow live participation.
Monday

| | |
| --- | --- |
| 1:00 PM – 2:30 PM | Elective Classes |
| 3:00 PM – 4:00 PM | Professional Development Seminars |
| 7:00 PM – 8:00 PM | Peer Connection Group Meetings (under 10 students) |
Tuesday

| | |
| --- | --- |
| 1:00 PM – 2:30 PM | Economics Classes |
| 3:00 PM – 4:00 PM | Guest Lectures |
Wednesday

| | |
| --- | --- |
| 10:00 AM – 10:30 AM | Mentor Meetings |
| 1:00 PM – 2:30 PM | Elective Classes |
| 3:00 PM – 4:00 PM | Special Events/Site Briefings |
Thursday

| | |
| --- | --- |
| 1:00 PM – 2:30 PM | Economics Classes |
| 3:00 PM – 4:00 PM | Special Events/Site Briefings |
Friday

| | |
| --- | --- |
| 11:00 AM | Self-paced Lectures Posted |
| Throughout the day | Career Exploration Panels + Small Group Discussions |
---
Program Costs + Scholarship Funding
The costs associated with our program cover tuition at George Mason University.
$4,750: 3-credits: Economics course and full schedule of program events
$5,950: 6-credits: Economics course, elective course and full schedule of program events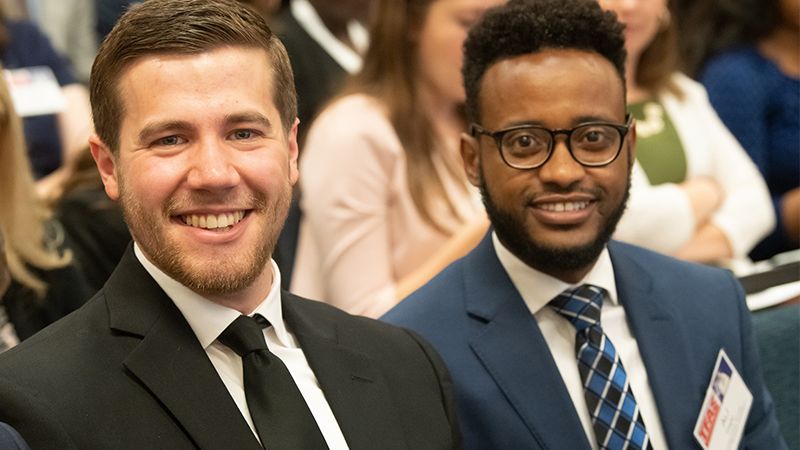 As an educational nonprofit organization we strive to provide as much scholarship funding to as many qualified and deserving students as possible. Generous scholarship funding is available so most students will pay a fraction of the price.
Scholarships from our general fund are awarded based on a combination of factors including:
Financial need
Academic excellence
Extracurricular achievement
Leadership activities
---
Admissions + Enrollment
If you have already completed an application for the summer 2020 program, there is no need to submit a new application. Your Virtual Summer Decision Letter and Enrollment Form have been added to your existing Summer 2020 Application and may be accessed in your Self Service Center account. You will also see your updated scholarship amount noted.
New applicants should submit the online application and send an official transcript by mail or email to:
The Fund for American Studies
D.C. Academic Internship Programs
1621 New Hampshire Ave., NW
Washington, DC 20009
Tel: 202.986.0384
Fax: 202.318.0441
Email: admissions@TFAS.org
Applications for the Summer Virtual Program have now closed.
All participants must view and sign The Fund for American Studies Summer Virtual Program policies upon enrollment. Please review the policies, including terms of final payment, refunds, withdrawals, student participation and code of conduct.
Questions?
We are happy to answer any questions that you may have! Following public health guidance, our staff continue to work remotely for the time being. Please contact us via email at admissions@TFAS.org.